Trunk thoughts is a series by Basin Ski, Ride & Bike team members as they give their first impressions and thoughts on equipment we have in store.
Welcome to Trunk Thoughts!
Trunk thoughts is a series by Basin Ski, Ride & Bike team members as they give their first impressions and thoughts on equipment we have in store. Today we are going to take a look at the Armada Declivity 92 Ti and give you a few thoughts about this new line for Armada. We encourage our staff to get out and try what they sell. These articles are meant to give you a snapshot of everyday use for a piece of equipment. Use this short snapshot and other reviews to make a strong decision if a piece of equipment is right for you. We encourage you to try out all equipment in person before buying.
New for 2021, The Declivity Series is a new approach for Armada while keeping to their roots. Many people know Armada as one of the freestyle powerhouses in skiing but the Armada Declivity 92 Ti is something completely new.
Armada Declivity 92 Ti Tech Specs

The Declivity 92 Ti sure does look great on show. While it looks very minimalist on our ski wall, out on snow this ski pops.
| | | | | |
| --- | --- | --- | --- | --- |
| Sizes | 164cm | 172cm | 180cm | 188cm |
| Width tip (mm) | 130 | 131 | 132 | 133 |
| Width waist (mm) | 92 | 92 | 92 | 92 |
| Tail width (mm) | 116 | 117 | 118 | 119 |
| Radius (m) | 16.5 | 17 | 17.5 | 18 |
| Weight (g) | 1625 | 1725 | 1825 | 1925 |
Here's a great link for more information about the Declivity Series!


Conditions
 
Skiing was soft and friendly on December 3rd, 2020
I was able to get out to the mountain at 1pm, well after first tracks to try out the Armada Declivity 92 Ti. The day was overcast and about 36 degrees. We received about two inches of fresh snow the day before which was skied off well before I arrived. The conditions could be considered variable and man-made. There were large bumps of snow with harder pack in between. There was little to no ice on the hill and the slightly above freezing temps made the snow easy to turn on. In my mind this is what the quintessential early season East Coast ski day looks like.

About Me & My Skiing Style
When looking at any review or opinion of a ski you have to consider the skier's biases when reading. Here's a little about my skiing style to help you understand my bias.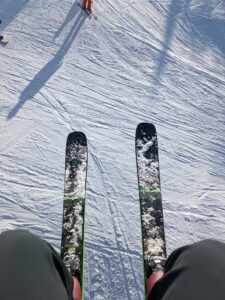 I am a male, 185lbs and 5'10. I grew up skiing in the Poconos and have an affinity for skiing the edge of trails to try to get the skied off snow. I would consider myself a skier that loves bumps and trees and rarely puts down long race turns on the middle of a trail. I thrive making quick and snappy turns.
On this particular day I was skiing the 180cm length ski that had an Armada Warden binding on it.
Thoughts On The Armada Declivity 92 Ti
I like this ski. A lot. I think that there is so much that Armada achieved excellently with their first version of the Declivity 92 Ti. It's a beautiful tool that was honestly a pleasure to ski on.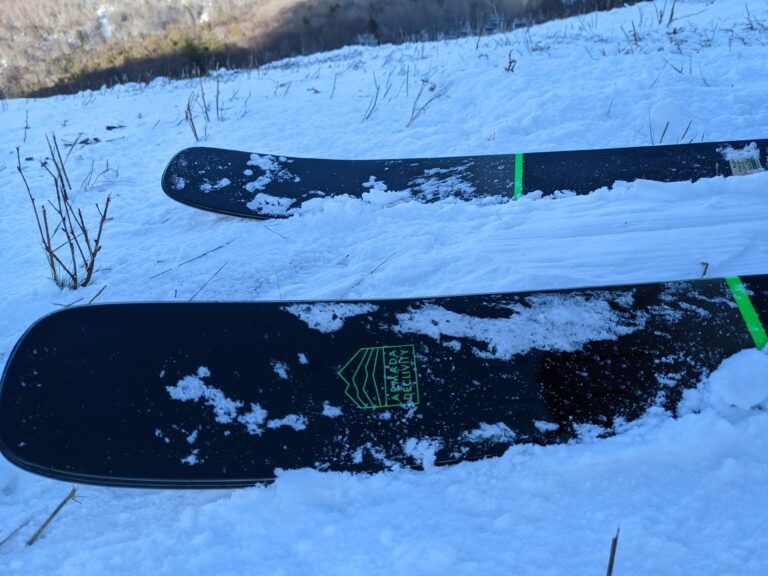 Design
The Armada Declivity 92 Ti at first glance may seem to be an unassuming ski. It looks like a black slab next to skis from Nordica or Black Crows. This is doubly true when looking at this ski on our ski wall. I strongly recommend you take it outside and let the light hit it because in natural light or on snow, The Declivity 92 Ti is stunning.
There are small patterns and designs that makes this ski look more like a futuristic race car than a ski. It has subtle green accents throughout that really make it feel like a premium looking and feeling product. The top sheet is glossy and I believe will be prone to scratching over time. I personally love seeing wear and tear on my skis. It shows that I use them and I think these skis will look amazing used.
The minimal lines on this ski are a huge departure from Armada's other ski lines. It leads to a mature, and powerful look that I personally love.
How It Skis To Me
I was nervous about taking out the 180 length. Carrying The Declivity through the parking lot seemed like it would be a lot of ski for an early season day. I almost regretted not taking out a more on piste ski. The Declivity 92 Ti quickly proved me wrong.
My immediate impression of this ski is, it's fast edge to edge. It loves to hop and jump and bounce through crud on the sides of trails. I think it really excelled in these mixed conditions. The Declivity 92 Ti absorbs bumps and crud like a champ. I didn't get an opportunity to ski it in the trees but you bet the second they open this season the Armada Declivity 92 Ti is coming with me.
It is a somewhat soft and forgiving ski underfoot that never felt squishy or under supported. I think the word "soft" can be considered wimpy in the ski world. Let's get something clear, this ski is not wimpy. In the short time I got to ride it today I pushed it through any and everything I could and not once did I feel like I was overpowering this ski.  Soft in this case, means my knees were not hurting nearly as much as they usually do after skiing bump runs.
Even with all these strengths, I feel the Declivity 92 Ti is not a unicorn of skis. While it skis all conditions well, it becomes abundantly clear this ski is designed as an all-mountain ski first. When you open up on this ski on harder, flat, snow you will feel the tips start to chatter. It's not enough to really impact skiing or truly bother me but it's there. I did notice that when you get the ski on edge you take advantage of the profile of the ski and the ski begins to feel a bit longer. I found it was a little bit harder to ski at higher speeds carving than it was flopping it back and forth in crud.
The Verdict On The Armada Declivity 92 Ti
Greats
-Minimalist design
-Fun in bumps & trees
-Powerful all mountain ski
-Skis quicker than a traditional 92mm ski
Watch Outs
-Chatters at high speeds
-May not be a carver's favorite ski
I really loved my time on this ski and can't wait to take it out when we have a little bit more snow on the ground. I think it is going to be the perfect glades ski for me at Killington and you will be seeing an update to this as soon as I get more time on the ski!
Lets keep in touch! You can contact the author through email at [email protected]
Follow Basin Sports on social media:
Facebook – @basinsportsvt
Instagram – @basin_sports
Check Out The Armada Declivity at Basin Sports