We've been busy behind the scenes this summer preparing for the winter season with a bang! Learn more about the changes to our website and how we are celebrating our continued tradition of growth in innovation.
Welcome to the NEW Basinski.com!
The Basin Ski, Ride & Bike family is very excited to announce that we've expanded on our continued tradition of excellence by creating an entirely new website and interface, one that allows us to better engage with you and to more efficiently connect with our loyal customer-base. We're super excited to continue to innovate on the world class service that our family-owned business has had throughout the years, through a new suite of services on Basinski.com
In our effort to bring our Killington community together, and to connect with outdoor enthusiasts from afar, we underwent an extremely exciting transformation that posed a very simple question: How can we better serve and connect with our customers online? From that, our new website was born! We now have wonderful new ways for you to be a part of the Basin from the comfort of your home, a milestone which we've strived for since our establishment many years ago. By being your go-to ski shop in Killington, and without your longtime community support, none of everything we've strived to be would be possible. 
From our family here at The Basin, to our loyal community and family outside of the Basin, we thank you and look forward to many more years of supporting our community and all those who love to venture into the great outdoors!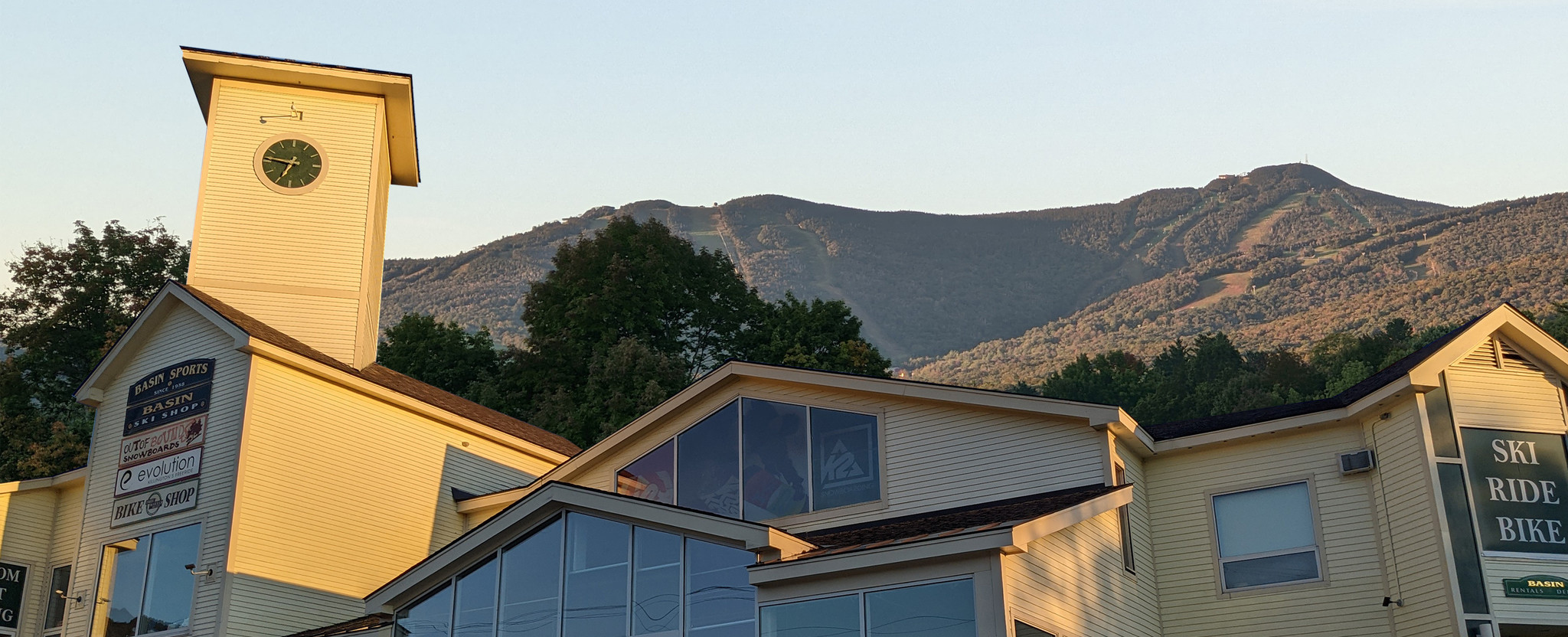 Our flagship store in Killington, Vermont. The same building we've been in (though a little larger) since 1958.
The Basin Ski, Ride & Bike website has undergone many changes over the years, and with those changes comes a list of new challenges. Below is just a few of our most favorite exciting new additions to the website per requests made by our longtime Basin customers!
1. In-store pickup option though online purchases
Killington is one of the top ski resorts in the country, and with each year, we get thousands of customers who are travelling locally and from afar to see all of what the mountain has to offer! Whether you're visiting locally or coming from the other side of the country, you can now show the entirety of our store online and use the in-store pickup option at check out! Your gear will be ready within one hour of your order in store (this feature is great for visitors who want their items to be available to them for when they visit). We're very excited that this feature allows us keep your items secure and safe for when you need them.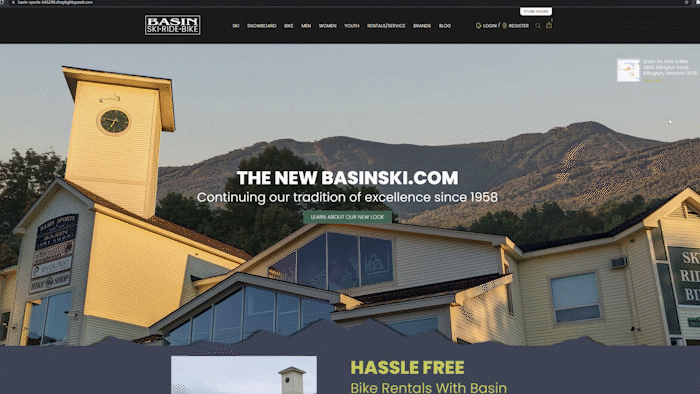 Just and any item in your cart and click "pick up in store" as your shipping option!
2. Compare products
You can now compare products before you buy! This features allows you to compare two or more products and their features and specs so that when you purchase a product, you know exactly what you want and how your product will better perform and fit your needs. It's like having a Basin team member with you all the time! All you need to do is click the "add to compare" button on any product page to try out this neat feature!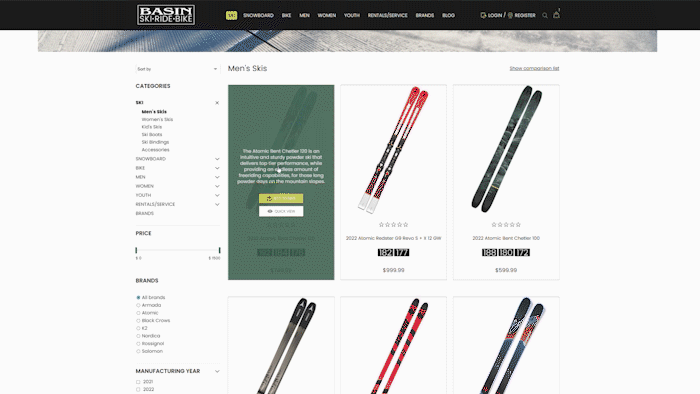 Compare two or more items with our new compare list
3. Gift cards
We are happy to say your in-store & online gift cards are now completely interchangeable.  When you purchase a gift card in-store, you can then use that gift card in-store or online, depending on how you'd like to purchase your item. We've also created them so that you can purchase a gift card online and be able to use it in-store (this option is great for customers who want to send a gift card as a gift to first-time Basin and Killington visitors). Lastly, instead a fixed amount, we've made them so you can load the exact amount onto the card. And, if you're not sure how much money is on your gift card, you can check your balance right here through our online store. 

Check your balance, email a new gift card to a friend or use your in-store credit online!
Be a part of The Basin family
As we enter this new chapter at Basin Ski, Ride & Bike, we want you, our community and everything that's made Basin a family-owned and community-centric business since 1958, to be a part of our mission to be Killington's top destination for your outdoor recreation needs. To stay up to date on everything Basin, create an account with us where we'll send you exciting new updates on all things happening at the Basin as well as promotional items that can be used in-store and online.
You can also stay up to date on everything Basin by following our social media: 
Facebook: facebook.com/basinvt/
Instagram: @Basinvt