Shipping with Basin Sports
We genuinely pride ourselves in packaging and shipping our products with care and safety to your home in a timely manor. Our shipping team is available through email at [email protected] 7 days a week from 9am-5pm EST. We ship Monday-Friday and any order placed before 11am weekdays will go out the same day. We do not ship on weekends but will continue to process orders. All weekend orders will go out Monday. We've put together a small FAQ of general questions people have about shipping.
FAQ
Q: How long will it take for my package to arrive?
A: Below is a UPS estimate of arrival times for our free shipping option. We can never guarantee shipping times. This includes paid shipping methods. We will always try our best to accommodate shipping timelines but external factors may delay your package. We encourage you to use the tracking provided free of charge.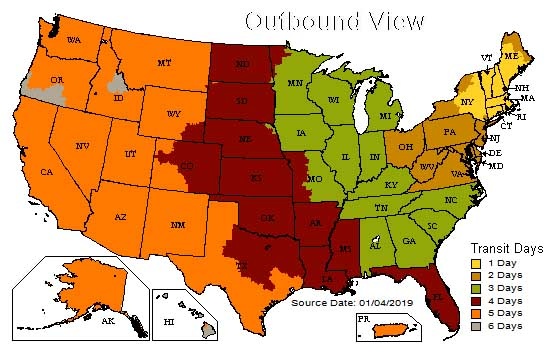 Q: What does free shipping mean?
A: Free shipping means we will cover the cost to ship to you your purchase. We will ship UPS Ground or UPS Surepost for all free shipping orders. Free shipping does not include any taxes or other charges. Free shipping is only available for the continental US. Normal shipping and transit charges will apply for any orders outside this area.
Q: Do I need to sign for my package?
A: No. By default we do not require you to sign for your package. If you would like to request a package be signed for when delivered please notify us in your order notes.
Q: Can you ship internationally?
A: Yes! We are glad to ship internationally to most countries but there are some restrictions see our full shipping policy for more on this.
Full Shipping Policy
We offer free shipping only to the continental United States. All other destinations the buyer will be required to pay for all shipping costs including duties and import fees.
Orders are generally processed the day they are received but may take up to three business days to be shipped. We will always inform you through the email you provided with your order if there is a delay or issue with your order. UPS does not guarantee any of their express shipments. We are not responsible if any package does not arrive within the desired time restraints.
Orders received after 12:00 PM on Friday will be shipped the following Monday. We do not ship on weekends.
International Orders
All international sales are final and returns will not be accepted.
At this time our international shipping is limited and will have restrictions. All international shipping will require you to pay shipping and import fees/duties. At this time we are only able to ship to the cardholders verifiable billing address. Orders from international customers choosing to have the item shipped elsewhere will not be processed.
Bike Shipping
Due to manufacturer agreements, some items such as full bicycles may not be shipped and must be picked up at our store. If you've placed an order for a bike, one of our sales associates will call you to verify pick- up times. If you purchase a bike that's unrestricted from us (Like Norco or Devinci ee will charge you for shipping. Shipping is NOT FREE on bicycles.
Import Duties and Taxes
All import duties and taxes are the responsibility of the purchaser and are not included in Basin Sports prices. We always advise customers to contact their local customs office for an estimate of these charges before submitting their order.
Brand Shipping Restrictions
From time to time we may not be able to ship certain products internationally due to our vendor/dealer agreements. If an issue arises where we cannot ship, we will notify the customer that the item(s) to be purchased are restricted. For a list of brands that can only be shipped within the states